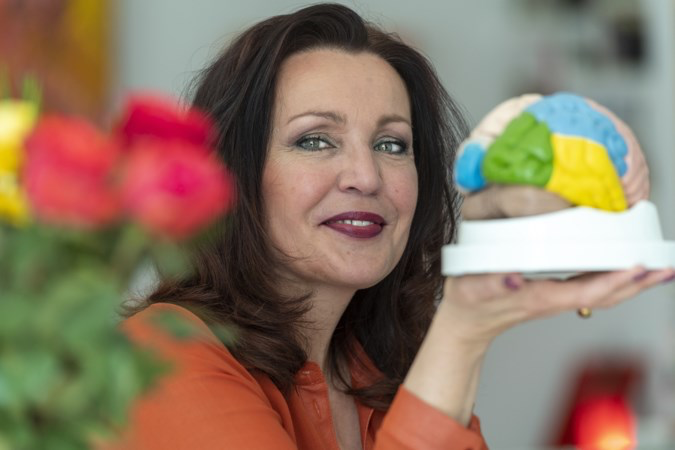 Ze werkte als leidinggevende bij verschillende bedrijven. Soms verzette ze bergen, soms kwam ze tot niets. Hoe kon dat toch? Dat bleef haar fascineren. Daniëlle Hellebrand (53) uit Vaals zegde haar baan op en dook in de wereld van onze hersenen. Belangrijkste conclusie: spanning en stress maakt dat we er niet slimmer op worden.
"De 'ratrace waarin we leven, beïnvloedt onze hersenen. Er is weinig tijd om rustig na te denken. Dat doet het brein geen goed. De kans dat we verkeerde keuzes maken neemt toe." Daniëlle Hellebrand onderzocht tijdens haar master cognitieve neurowetenschappen aan de universiteiten in Chicago en Keulen, het functioneren van ons brein. Wat gebeurt daar binnen allemaal?
Mensen staan de hele dag 'aan'. Over het algemeen lukt het heel aardig om ons snel aan te passen. De coronacrisis is daar een goed voorbeeld van. Maar er is wel een grens, stelt Hellebrand. "Onze hersenen hebben maar een bepaalde bandbreedte. Er kan niet oneindig veel informatie tegelijkertijd in. Dus ga je selecteren."
Sfeer
Stress helpt daar in elk geval niet bij, benadrukt ze. "Kijk naar je werk. Wanneer begint de stress? Bij gebrek aan sociale interactie: geen fijn team, geen prettige sfeer, wantrouwen. De grootste pijn maar ook de grootste vreugde die we voelen hebben te maken met relaties."
Het is dus hartstikke belangrijk, stelt Hellebrand, dat collega's het voor elkaar opnemen, elkaar respecteren en waarderen. "En het werk moet zinvol zijn. Anders zorgt dat voor stress en die maakt dat je niet goed kunt denken. Je gaat op de automatische piloot. Het lukt je misschien nog wel om dat ene artikel te schrijven, maar niet om een hele nieuwe economiebijlage te bedenken. Vernieuwing kun je dan wel vergeten. Daar heb je een heel team voor nodig, de wereld is te complex om dat alleen te kunnen doen."
Ego
Bedrijven moeten zich dit goed realiseren. Volgens Daniëlle Hellebrand zouden leidinggevenden meer moeten faciliteren en "hun ego een beetje opzij schuiven." Een werknemer ligt echt niet wakker van de kwaliteit van de koffie op het werk en ook niet van een misschien wat gedateerde laptop. Stress komt uit de sociale hoek, zo blijkt uit haar onderzoek, en wordt mede veroorzaakt door een gebrek aan communicatie, het ontbreken van een sfeer waarin mensen durven te zeggen wat ze willen zonder er op afgerekend te worden.
"Leidinggevenden zouden hun ego wat meer opzij moeten schuiven"
Over werkstress

1,3 miljoen Nederlandse werknemers hadden in 2019 burn-outklachten. De kosten van verzuim, gerelateerd aan werkstress, zijn opgelopen tot 3,1 miljard euro per jaar.

46 procent van de werkgevers geeft aan dat werkstress een belangrijk risico is in het bedrijf en 35 procent van de werknemers geeft werkdruk/werkstress aan als reden voor verzuim.

Werkgevers proberen echt wel maatregelen te nemen om stress te voorkomen. De meest getroffen maatregel is werknemers meer autonomie te geven om het werk zelf in te richten.

Werknemers vinden die maatregelen vaak niet genoeg. 44 procent vindt dat er aanvullende maatregelen nodig zijn.

Door de coronacrisis zijn banen verloren gegaan en werkten veel mensen thuis. Desondanks is tijdens de eerste golf het aantal burn-outklachten ongeveer gelijk gebleven: 17 procent.

"Als je je vakantie nodig hebt om weer een beetje bij te komen, duurt het precies één dag voor het uitgeruste gevoel weer weg is"
Hellebrand hekelt de bonuscultuur. "In die sfeer is het ieder voor zich en ga je je bevindingen en nieuwe inzichten echt niet delen. Dus daar kom je als bedrijf uiteindelijk niet verder mee. Het delen van kennis maakt je juist sterker."
Tandvlees
Er bezwijken nogal wat mensen onder die stress. Het aantal mensen met een burn-out of een depressie is veel groter dan die met lichamelijke klachten. "Al die mensen moeten straks wel tot hun 67ste en nog ouder doorwerken. Dat wil je toch niet op je tandvlees doen?", klinkt het verontwaardigd. Hellebrand schetst een horrorbeeld. "Als je je vakantie nodig hebt om weer een beetje bij te komen, duurt het precies één dag voor het uitgeruste gevoel weer weg is. In zo'n ratrace kun je niet meer denken, je brein is bezig om te overleven en je sociale component is uitgeschakeld. Je IQ zakt met tien tot vijftien punten, en dan moet je tot je 68ste!"
Stop met dingen die tegen de menselijke aard ingaan, stelt Hellebrand. Ze noemt het functioneringsgesprek bullshit. "Dat kost je zes dagen denkkracht. Drie dagen voor het gesprek vraag je je af of je de bonus wel zult krijgen, op de dag zelf hoor je dat je in maart iets fout hebt gedaan. In maart, in maart, denk je dan. Dan moet je drie dagen bijkomen. Niemand die aan je vraagt wat je eigenlijk geleerd hebt."

Omdat je verandering en vernieuwing alleen met z'n allen voor elkaar krijgt, heeft het ook geen zin om uitsluitend de leidinggevenden op cursus te sturen. Bij terugkomst weet de werkvloer niet wat de bedoeling is en verandert er dus niets. Daarom moet je juist teams op cursus sturen. Dan weet iedereen welke kant het bedrijf op wil.
Baas
We moeten dus ook af van 'ik ,de alwetende baas' die dicteert. "Ik zie bij bedrijven hele zelfstandige en verantwoordelijke mensen, die huizen bouwen, die kinderen opvoeden, maar als ze een nieuw kabeltje voor de laptop willen, moeten ze eerst drie aanvraagformulieren invullen. Hou daar toch mee op."
Haar kennis gebruikt Hellebrand om columns te schrijven, lezingen te houden en mensen te coachen. Nieuwe inzichten om mensen verder te helpen. "Uiteindelijk bepaalt de kwaliteit van onze relaties, de kwaliteit van ons leven. En dan bedoel ik niet die 500 vrienden op Facebook. Aan het einde van het leven kijkt niemand tevreden terug omdat hij veertig jaar lang zo fijn vergaderd heeft. Nee, dan gaat het om de mensen met wie hij al die tijd zo'n fijne band heeft gehad."
Interview by Monique Evers